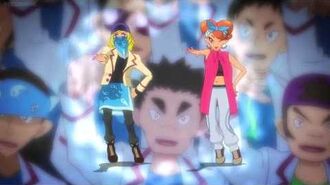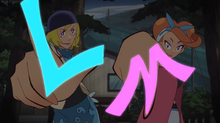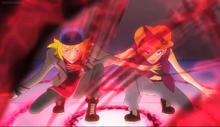 When the Grandiose Yatsugatake Range to the East, the Lake Suwa's Waters Shine Clear, and On its Shores, We Perform the Steps of a New Dawn (東に仰ぐ雄大な八ヶ岳 静かに横たわる諏訪湖の畔で俺たちは夜明けのステップを踏むHigashi ni Aogu Yūdaina Yatsugatake Shizuka ni Yokotawaru Suwa-ko no Hotori de Ore-tachi wa Yoake no Suteppu o Fumu?) also known as Lui Moe is one of the teams competing in Dance Road, however, they failed at round 3.
The team's color is Suwa Blue- the blue of Suwa's lake. and has very strong individuality.
After they failed round 3 of Dance Road for mixing in some of their own step in a test that required accuracy, they were scouted by Gallager and took up Crowd High, planing to go big and famous by it. Their team color also change from Suwa Blue (blue and white) to red and black. They has been very famous and is actually the icon of Crowd High now by being the first to make it popular performing at Green Square.
They have a dance move called Luilui step which involes some footwork and ended up with them spelling some words on the ground by dancing.
After took up Crowd High, they called themselves "LuiMoe version 2"
Community content is available under
CC-BY-SA
unless otherwise noted.